SIMPLY
CLEAR
The Accu-Chek Instant system makes testing easy and understanding your results simple.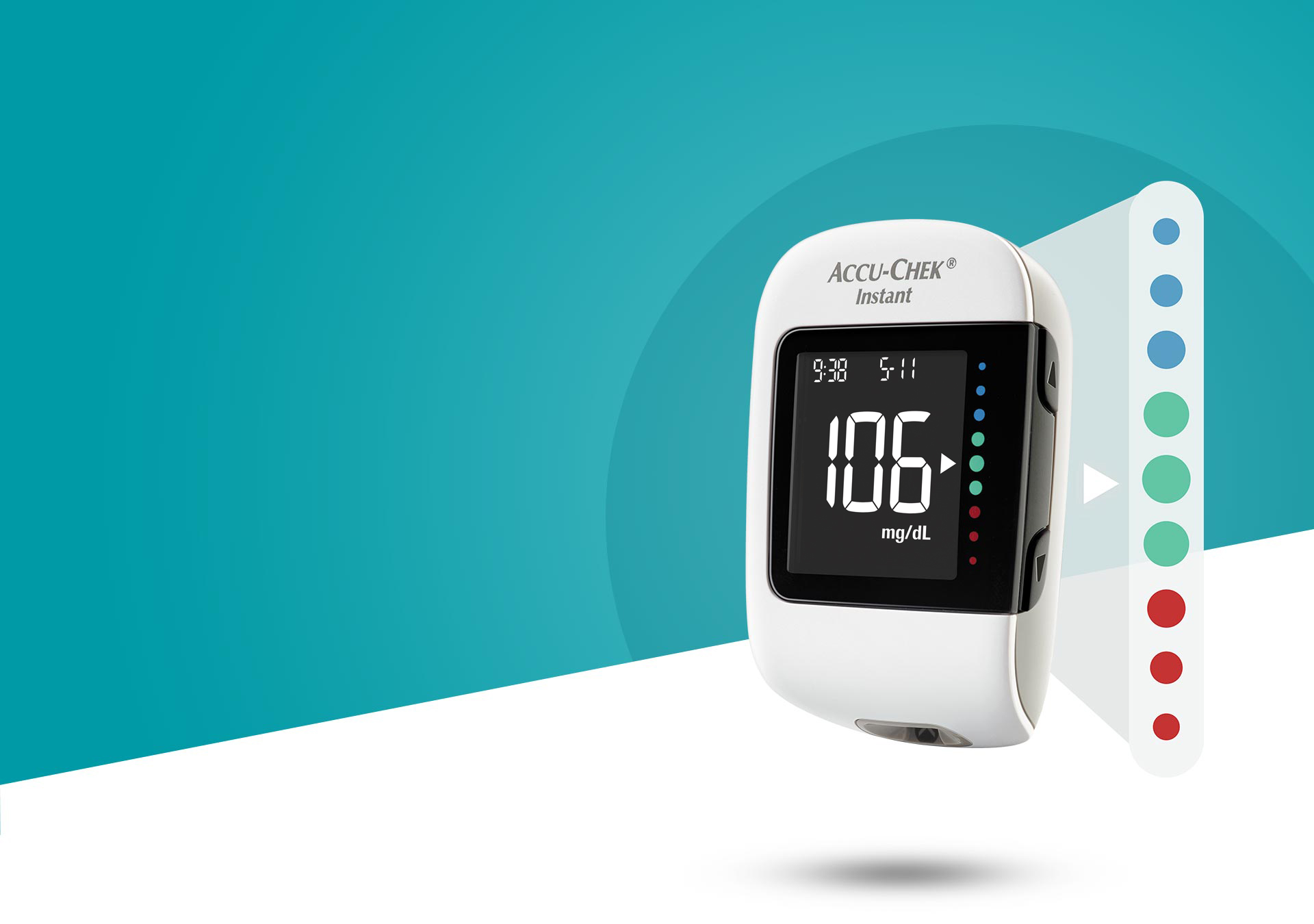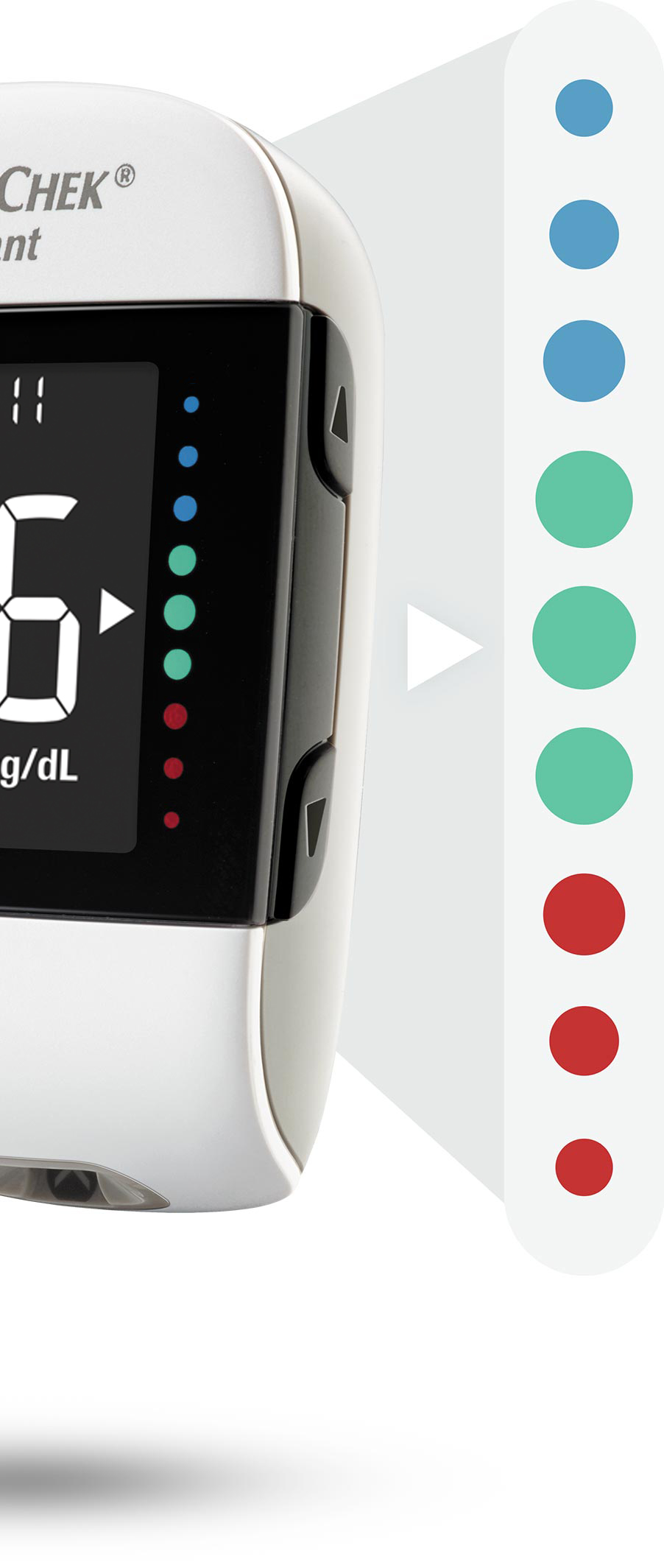 TARGET RANGE INDICATOR HELPS YOU UNDERSTAND


AT A GLANCE
The Accu-Chek Instant system provides an instant view to see if your result is high, low or in-range.The target range indicator shows the difference between a result that's very high or low, and one that's only slightly higher or lower than your target range.
In a study of people with diabetes, 96% of study participants agreed that the target range indicator of the Accu-Chek Instant meter is helpful for identifying and interpreting high and low blood glucose levels correctly.1
For more information on the target range indicator watch this video
EASY
TESTING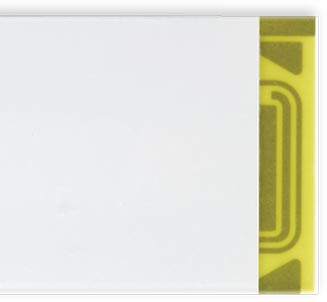 Wide dosing area: Apply a blood drop anywhere along the entire width of the yellow edge.
Guided strip port: A clear path for the test strip to slide into the meter.
Easy-to-read results: Clearly see results on a large, backlit display..
Accu-Chek Softclix lancing device: Gentle lancing that's virtually pain free2.
NEW FEATURES INCLUDE:
Clean strip disposal: A strip ejector for quick, hygienic removal.
Set time and date on the meter
View 7, 14, 30 and 90 day test averages easily on your meter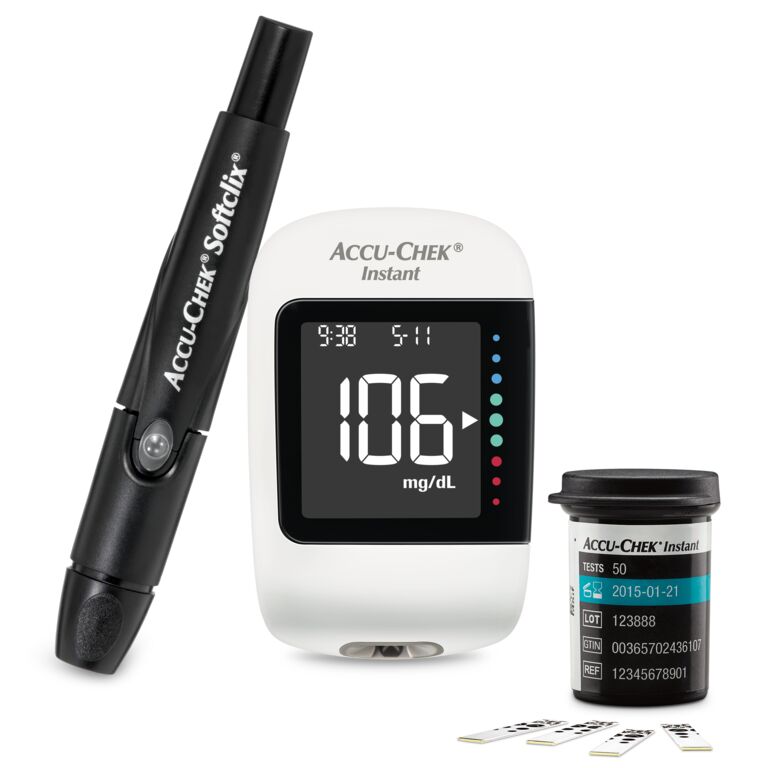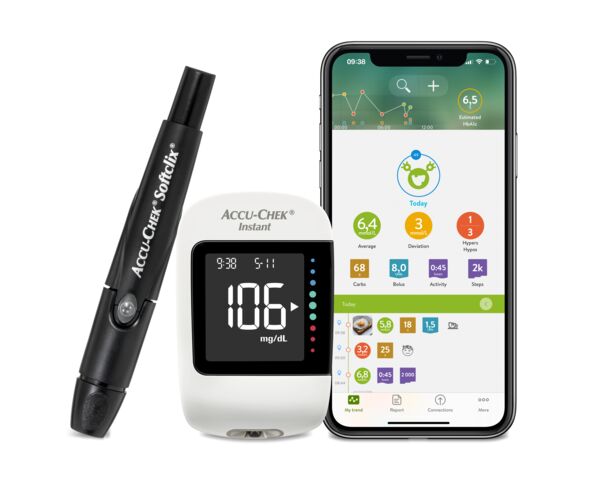 CLEAR AND SIMPLE
DIABETES MANAGEMENT
Connect to the mySugr diabetes management app to experience Simple Diabetes Management.
Receive all the benefits of mySugr when pairing your Accu-Chek Instant meter with the mySugr app. With automatic blood glucose logging and clear graphs, your diabetes management is now more simple than ever.
*The mySugr app is NOT available in the UAE. To check if you have a compatible smartphone please contact us here

ADVANCED
ACCURACY
Proven Accuracy: The Accu‑Chek Instant system fulfills the ISO 15197:2013/EN ISO 15197:2015 standards and delivers even tighter 10/10 accuracy for reliable results you can trust.3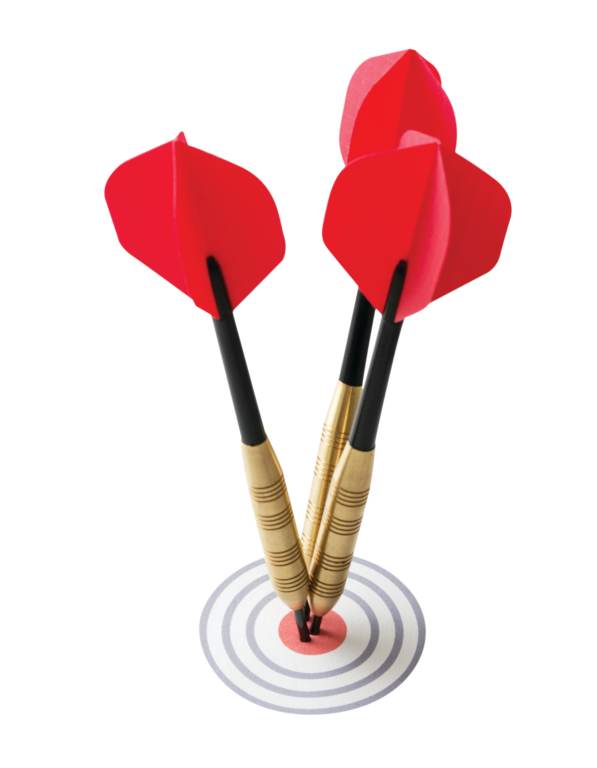 1. Parkin CG et al. Use of an integrated tool for interpretation of blood glucose data improves correctness of glycemic risk assessment in individuals with type 1 and type 2 diabetes. J Diabetes Sci Technol. 2017, 11(1), 74–82.
2. Kocher S, et al. Comparison of lancing devices for self-monitoring of blood glucose regarding lancing pain. J Diabetes Sci Technol. 2009;3(5):1136- 1143.
3. The International Organization for Standardization EN ISO 15197:2015. In vitro diagnostic test systems—Requirements for blood‑glucose monitoring systems for self‑testing in managing diabetes mellitus.
ACCU-CHEK, ACCU-CHEK INSTANT, mySugr and SOFTCLIX are trademarks of Roche. All other product names and trademarks are the property of their respective owners.
The Bluetooth® word mark and logos are registered trademarks owned by Bluetooth SIG, Inc. and any use of such marks by Roche is under license.
© 2021 Roche Diabetes Care
English